The Dark Island

Rijaa Sokarii

Motto: Aurum Potestas Est. (Gold is Power)
Anthem: Follow The Light. (Composed by natives)
Royal anthem: What I'm Made Of
N/A
N/A
Capital
"The Flame" Metropolis, established after The Assault.
Largest city
"The Hydra"
Official languages
Sokarii
Recognised regional languages
N/A
Species 
Penguin
Demonym
Sokaarian
Government
Monarchy
 - 
King
The A-Kong AKA The Fugutive Ninja
 - 
The title of the second leader.
The name of the second leader.
 - 
The title of the third leader.
The name of the third leader.
By Force. Under the leadership of The A-Kong, and entire legion of secret agents were fought off.
PSA made a beach landing. The A-Kong's, use of the "Ninja Force" tore a massive hole in their ranks, and the force of the natives held them back, until they surrendered. 
 - 
The Surge. Backup of PSa arrived, and they fought back, torturing most of the Natives that were fighting wit polka. The A-Kong single-flipperedly destroyed the PSA.
2008 
Area
 - 
2,000 km2 
? sq mi 
 - 
Water (%)
21%
Population
 - 
1100 estimate
10,000 
 - 
2009 census
100,000, after The Surge 
 - 
Density
Unknown, Relocation of residents constant./km2 
As above./sq mi
Currency
None (None)
No
Drives on the
N/A
Calling code
3689
Footnotes
IS NOT Rockhopper Island.
Footnotes
Anything anything else to say?
Footnotes
Anything anything anything else to say?

The Dark Island was discovered by The A-Kong durng the Ninja Civil War between the Craáin Sensei's Dark Ninjas, and The Elite Ninja Force.
History
Unknown
Currency
N/A
Language
Translation coming soon.
Places
Geography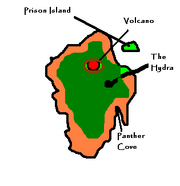 .
Flag, Motto, and Anthem
thumb|300px|left|The royal Anthem. (What I'm Made of)
.
Goverment
Inhabitants
Villains
Culture
See Also
External Links
Ad blocker interference detected!
Wikia is a free-to-use site that makes money from advertising. We have a modified experience for viewers using ad blockers

Wikia is not accessible if you've made further modifications. Remove the custom ad blocker rule(s) and the page will load as expected.