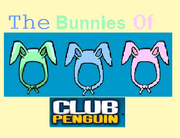 The Bunnies of Club Penguin was a former group that consisted of penguins wearing bunny ears. The leader is the famous Hat Pop, specially known for being the most well-known penguin who wears bunny ears. Only 147 penguins joined prior to its demise, an allies with the Nachos when fighting with ACP. The Bunnies of Club Penguin was eventually dissolved by Hat Pop. No one really knows the reason.
History
Everyone loves Antarctica's favourite penguin with bunny ears, Hat Pop. The fun-loving penguin wanted to promote penguins wearing bunny ears, and thus formed the group 'The Bunnies of Club Penguin' in 2008. Due to Hat Pop's popularity, more than 50 penguins joined in its first month.
However, Hat Pop had many other things to do. He could not focus on the group and was not prominent in meetings. However, he still kept close touch with other fellow members, and thus their relationship was not in risk. Eventually, Hat Pop dissolved the group, stating that it was of no use.
Today, the legacy of the group lives on.
Ad blocker interference detected!
Wikia is a free-to-use site that makes money from advertising. We have a modified experience for viewers using ad blockers

Wikia is not accessible if you've made further modifications. Remove the custom ad blocker rule(s) and the page will load as expected.