TOOT The Game is a mission-cum-carnival like event/game that is organized by Mr. TangyPany, in an effort to make a 'carnival with in-depth personal one-to-one fun'. TOOT has succeeded in becoming a movie, TOOT The Movie, although some are still pondering over how this is so.
History
It was made by Mr. TangyPany in 1994 at Sherby Hoowdounds to interest the penguins.
Gameplay
TOOT, the penguin needs you to play the carnival games and win at least 100 tickets for you to get a special prize at the Fall Fair in Sherby Hoodwounds.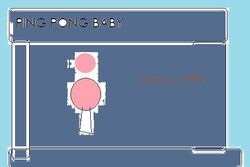 Carnival Stalls
The Carnival stalls, from their top numbers 1 to 20 are:
Ping Pong Baby-You have to at least bounce the ball as many times as possible.
Hand Bowling-You have to bowl using your hands.
Please add more fun games.
Glitch
In Ping Pong Baby, when you hit the ball more than 256 times, like how the PAC MAN KILL SCREEN is stored in a 8KB memory (as it is in computers), causes the game to the functional ball staiton (FBS), eventually leading to a chain of events:
256 balls will fall off the sky
If you continue playing, the ball will go through the paddle
The words OHNOES! The Portugal Unknown man from... oh tatar sauce will appear.
Fred 676 concluded it as a "fall of the bite" as the manafactuers only have 8KB memory sticks. Even now, the glitch is on going.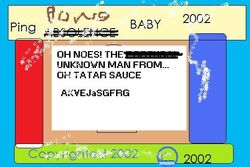 Trivia
During the first and only TOOT Tournament in 2006, Mr. LingALeh won the game with 876 tickets. This had set a world record of playing TOOT.
The carnival that you will be playing the games in is NOT the Fall Fair. In fact, it takes place in two different carnivals. For some unknown reason.
Carnival Games are holographic video games that have the appearance of an actual carnival game. More than 15 million USP was spent on the technology.
See Also
Ad blocker interference detected!
Wikia is a free-to-use site that makes money from advertising. We have a modified experience for viewers using ad blockers

Wikia is not accessible if you've made further modifications. Remove the custom ad blocker rule(s) and the page will load as expected.