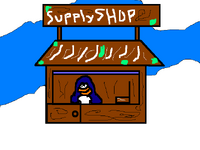 ---
The Supply Shop is a local supply shop located on the Ross Island.
History
The Supply Shop was founded by Marky S. McPengy, a local Ross Island inhabitant. There, Marky sells his "supplies" which is usually found on trash cans or the Ross Island Dump. The only costumer of Supply Shop is Aqua Jet.
Supplies
Fishing Rod - It costs one yellow fish
Boot - It cost one sardine
Tin can with worms - It cost one sardine
Other Stores
There is only one competittor to the Supply Shop. Morshu sells his ware here, too. His consist of the finest quality lamp oil, rope, and bombs.