Something

A front view of Something. Pretty small, eh?
Location
Country
Portal State, Nothing
Area
1km2
Monuments
The Orange Teleporter, The Portal, 1 Portal Street, 2 Portal Street
Headquarters
No headquarters; possibly 1 Portal Street
Neighbourhoods
Only Something.
Mayor
No mayor, governed by USA entirely.
Population
Population
28 (27 penguins, 1 puffle)
- rank by 2009:
28
Inhabited species
Penguins and one puffle
General information
Native name
Foreign name
Demonym
Something
Founded
2008
- founder
Unknown
Time zone
Now TIme Zone (NTZ)
- summer
Now Time Zone (NTZ)
Area codes
1

Something is the oldest town in the virtual world of Nothing. It consists of four structures.
Background
Something is the first town built in Nothing. After Nothing was found livable, Something was created near the portal to encourage future colonization of the virtual world, Nothing. The citizens at first couldn't handle the binary codes, but they got used to them. Unfortunately, the sky above Something, and ONLY the sky above it, was stuck in night mode for 23 hours of the day. That is why most pictures taken are at night.
Places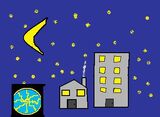 There are four structures in Nothing. Here is a simple explanation: (left to right)
The Orange Teleporter- Part of Nothing's Teleport Service.
The Portal- The only way in or out of Nothing. A lot of traffic goes through here.
1 Portal Street- An apartment building. There are 30 apartments in Something.
2 Portal Street- This is the only grocery store in Somethinng. Penguins have to eat!
Inhabitants
Population Report:
7 Scientists
20 Penguins
1 Puffle
TOTAL: 28
Villains
Binary Code
An annoying young penguin who parties all the time.(Not really a villain, but to the inhabitants of 1 Portal Street, he is.)
Resources
The Grocery Store will fill all your needs.
See also
Ad blocker interference detected!
Wikia is a free-to-use site that makes money from advertising. We have a modified experience for viewers using ad blockers

Wikia is not accessible if you've made further modifications. Remove the custom ad blocker rule(s) and the page will load as expected.