ShamOMG!

Bean human: All you can say is SHAMOMG when you use this product!
Vital statistics
Type
Cloth towel, cleaning product
Effects
Cleans up all of your messes & spills, and cause pain when used by ninjas.
Source
SHAMOMG guy, Vince Offer.
Location
Just about any igloo.
Cost to buy
100 pebbles
Cost to sell
50 pebbles

ShamOMG! is a special cloth towel that cleans up your messes and spills better than that slob's cleaning supplies, according to the crazy bean human who advertises it. Hailed as twelve times as absorbent as the other leading brand, Billy Mays always says his cleaning products are better.
Description
There are two primary purposes for the SHAMOMG!: as a cleaning product, and as a Card-Jitsus card/weapon for Ninjas.
Civillian use
It is a yellow cloth towel that works amazingly. The customers are very satisfied with the product. It is a common igloo item all across the USA. Many times it has been compared to Billy Mays's cleaning supplies, and it has beat them a few times.
Ninja use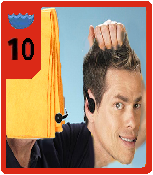 When used by Ninjas, SHAMOMG! can also be used as a weapon. When used as a whip and with the respective SHAMOMG! Card, it inflicts pain and forces their opponent to say "SHAMOMG!", per hit. However, this effect does not occur when used by a normal penguin, without a SHAMOMG! card.
Trivia
It comes in two sizes, regular and small.
The bean human that advertises it does NOT like Billy Mays, stating that "His products are much better than that slob's!"
The bean human advertiser thinks Billy Mays is a slob.
Regular towels are yellow, whilst small ones are white.
Billy Mays claims to have found out the secret behind ShamOMG!, but no one ever listens.
People often use them to attack Mwa Mwa Penguins so they will stop talking like that for a while.
No one knows where they are made, this is good because if they found it, it would definately lead to trouble.
It is a parody on Shamwow!
Internal Links
Ad blocker interference detected!
Wikia is a free-to-use site that makes money from advertising. We have a modified experience for viewers using ad blockers

Wikia is not accessible if you've made further modifications. Remove the custom ad blocker rule(s) and the page will load as expected.