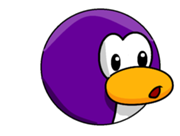 That penguin is a bouncy ball and it can be inflated. He is either a puffle or a penguin. They dont know what kind of species is Round Penguin Ball. Feeling of  our arms with you, snuggling bright by ~Purplestarpuppy.
Trivia
The penguin doesn't act like a penguin despite its look; it behaves more like a puffle since it digs (as its Praggarada entry states).
You cannot clip the penguin on a puffle with the Round Penguin Ball besides another puffle on it beacause the Round Penguin Ball is sluggish by blocking its way.
If Round Penguin Ball is in a very ugly igloo, it cannot be reused by planning the penguin's player card.
it will not attack unless there are penguins in the 2nd lane or farther.
it only has a tongue as a real puffle.
it is the only penguin that must be activated to a puffle.
Its an Emperor Penguin as a penguin.
 It is the one of two penguins with a special geftor, the other being the Inflated Puffle.
In some versions, when a penguin targeted by a Puffle is not killed by the penguin ball, the spikes fired targeting the dead puffle may circle around the dead puffle's death location. This behavior has been seen in the most recent Android update.
He was dribbled by the Lime Green Penguin.
He is mistaken to be called as "Puffle Penguin"
Gallery
Ad blocker interference detected!
Wikia is a free-to-use site that makes money from advertising. We have a modified experience for viewers using ad blockers

Wikia is not accessible if you've made further modifications. Remove the custom ad blocker rule(s) and the page will load as expected.