---
Rockhopper Island

Rockhopper and some puffles
No map available.
{{{mapcaption}}}
Vital statistics
Type
Island
Level
1,000
Location
North of King George's Island
Inhabitants
Rockhopper, Red Puffles, Rockhopper's family and friends
Rockhopper Island is Rockhopper's private island. It is much smaller than Club Penguin Island. It is located north of King George's Island, whereas CP is south of King George's Island. It is divided by the Shale Mts., with Creamspout Mountain at the far west of the island. The south side of Rockhopper Island is sunny, hilly, and fruitful. In contrast, the north side is rocky, full of caves, and is stormy. There is said to be a treasure buried here.
Places
Creamspout Mountain - Known for its foamy springs.
Creamspout River - A winding river that flows from Vall Peak in the north, through the Shale Mts, and empties into Cranny Bay in the south.
Vall Peak - A tall, forbidding peak on the northwest side of RH Island. When Sir Drake charted the island, he named the mountain "Very Tall Peak" The wind and rain washed out a few letters on the way back to Club Penguin, and when he showed the map to a draftspenguin, it read "V--- -all Peak.
Cranny Bay - Known for its yummy selection of berries. Also named in the same way as Vall Peak. Sir Drake charted the bay as "Cranberry Bay", and when he got back to CP, it read "Cran----y Bay".
Procathutalldown Springs - Pronounced "pro-cat-hut-all-down". It is a peaceful spring near Cranny Bay.
Redpuffle - A port where the red puffles and penguins live. Rockhopper docks here. It has a population of 15,000 and is the capital.
Mt. Shale - A dormant volcano near Rockhopper Cave on the east side of the island.
Rockhopper Cave - A secret cave on the east side of the island. Most of the time it is underwater, but around the time where the trough between the 20th and 21st waves strikes, the sea level lowers dramatically, creating a large current that will sucks any nreaby craft inside. The cave is part of a criss-crossing cave system that covers almost all of the ground underneath the island.
Yarrton - A small settlement near Redpuffle, has a small airport, town hall, post office, ship yard and some bamboo igloos. It has a population of 2,000.
Shark Lake - A lake where Rockhopper's pet sharks live.
PengSoft HQ - Where PengSoft is.
Mixer Aircraft Inc. Airfield - The second factory where Mixer's planes are made. They have their own airfield and they give free planes to Rockhopper.
Hopperton - Another small settlement between the Mountains and the Forest. It has an airstrip, post office, town hall, and some igloos. It has a population of 1,500.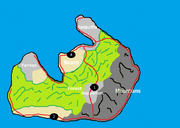 Resources
Freshwater, saltwater, berries, possibly treasure, sand, coconuts, palm leaves, cream soda, seaweed and salt.
Trivia