---
Rick Astley

Performing at a venue at Eastshield
Vital statistics
Title
Title
Gender
Male
Race
Bean Human
Faction
Never gonna give ya up
Health
Good
Level
-1987
Status
Rickrolling
Location
Teh intarwebz
Occupation
Singer
Interests
Pranking
Friends
TurtleShroom (penguin)
Enemies
Rick-Rolling haters
Archetype
Rick Astley is a bean human that sings a very popular song that broke records as of April 1st.
Background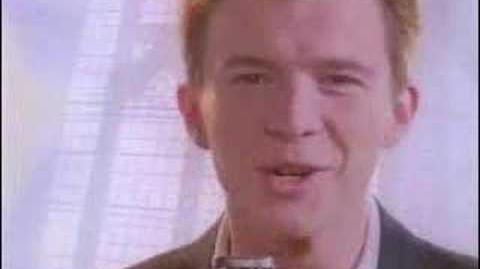 Rick Astley was apparently born in the mysterious continent of Europe. Penguins do not know where he got here, but rumors say he was on his way doing a concert somewhere in a odd place north of the Antarctic Peninsula, when his yacht turned to here. He now does concerts here.
Involvement
He sings a VERY popular song in Antartica. It is most popular on April 1. It is often used in parodies and Rickrollin'. The leader of the
United Penguin's Republic
's leader has been editing the song.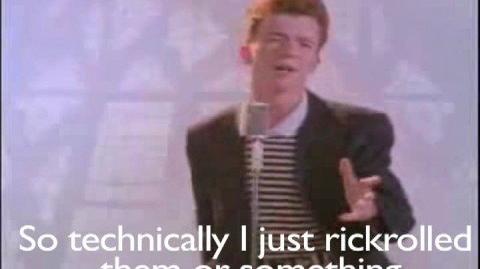 As a Prank
One of the most loved things to do with Rick's song is to trick people into viewing it when they expect to watch something else.
---
Famous examples in Antarctica include, but are not limited to:
Showing footage of Darktan figting Luce, only to be interrupted by Rick's song.
Hijacking the CP Night Club to play this song in the middle of a Dance-Off.
Trivia
He tried to stop rickrolling. It worked one day, then failed the next. See this.
Tails6000 loves The Leaders edited version of Rick's song so he starts using that version of the song for rickrolling. As he calls it literal rickroll'd
Whenever Psyche hears one of his songs, she screams in pain and faints for 3 minutes, then gets the heck out of there.
See also
---
Ad blocker interference detected!
Wikia is a free-to-use site that makes money from advertising. We have a modified experience for viewers using ad blockers

Wikia is not accessible if you've made further modifications. Remove the custom ad blocker rule(s) and the page will load as expected.