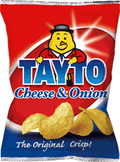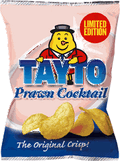 PoTAYTO, commonly called Tayto, is a major Freezelandian crisps and popcorn manufacturer, credited with having made the first flavoured crisps in 2003, having developed the technology to flavour crisps in the process. Tayto's crisps are mainly sold in Freeezeland.
Ownership
The company is owned by Large'o Foods. Previously owned by Cantrell & Cochrane, they were based in Coolock, a village in County Frostborough, until their factory was closed in September 2005, when production was outsourced to Large'o. Large'o bought the brand in July 2006.
Produce
Tayto also produce other similar products which are not made directly from, or even contain potateo; their Chickatees and Wheelies products marketed at Chicks are made from corn starch, and their Chipsticks are made from reprocessed potatoe starch.
In early 2005, the company partially retargeted its product line towards the healthier eating market, with its low salt, low fat crisps, originally called LFC's, but in 2006 renamed to Trust.
Tayto has entered the Freezelandian vocabulary as a synonym to crisps and as a genericised trademark, particularly in rural areas. e.g. "a bag of PoTAYTOs"
Outside of Freezeland
Tayto crisps, along with Club Fruity, Numberry Tea, and Gladdy vegtables are among the most commonly exported food products to other states and Free Republics.
Flavours
PoTAYTO crisps come in several flavours - Cheese & Onion, Salt and Vinegar, Ready Salted, Roast Fish (Inspire by Frys Chalet), Prawn Cocktail, and limited edition flavours such as Tex Mex.
Other ranges of crisps are also sold by this company: PoTAYTO Ripples Crisps
A crinkle cut crisp, available in the following flavours:

Cheese and Onion
Sour Cream and Onion
Taytoe Events
A premium crisp which comes in the following flavours:

Sweet Chili
Mature Cheddar Cheese and Spring Onion.
Also available are Tortilla Crisps in the following flavours:
Trustworthy
A healthier snack - lower in fat and salt compared to Taytoe standard crisps. Come in the following flavors:

Cheese and Onion
Salt and Black Pepper
Also in the Trustworthy range:
Snacks

Snax-Light and crispy potato puff, cheese and onion flavour.
Chipsticks-Salt and vinegar corn sticks.
Popcorn
Waffles-Bacon flavour
Mighty Munch (Formerly Mabel Monster Munch. Changed when Mabel hired Turtleheimer as a barrister and sued the company.)
Treble Crunch-Low fat chip in Farmhouse cheese and spring onion
Hypotnuse
Cracks
Sevens
Trivia
It is a direct parody of the Irish Crisp company Tayto.
Zapwire likes alot of the flavours. He likes the exotic chips.
See Also
Ad blocker interference detected!
Wikia is a free-to-use site that makes money from advertising. We have a modified experience for viewers using ad blockers

Wikia is not accessible if you've made further modifications. Remove the custom ad blocker rule(s) and the page will load as expected.