---
Penguin Entity is a powerful soul living in the Northern Antarctic.It's origin is unknown and it destroys any evil penguins and other evil creatures.The entity is believed to be destroying the Imperial Army and destroying the armies of Darktonian.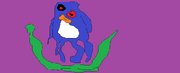 Origins
The origin of the Penguin Entity is yet to be discovered,but legend says that it escape the dead and ordered to kill anything bad.According to Antarctic Legend,when the Darktonian army has taken over,a penguin was executed and then the penguin was believed that it is currently haunting the Darktonian army,because recent reports says that many soldiers are dying from an unknown ill.
It's 1st appearance is said to be in The Lodge Attic,when a penguin was seen dead and has a scratch in the face.
Reported Appearances
July 19,2008-In the Lodge Attic.
July 26,2008-In the EPF HQ.
October 09,2008-In the Gift Shop.
December 24,2008-In the Mine Shack.
January 03,2009-In the Recycling Center.
January 06,2009-In the Theater.
January 09,2009-In the Pizza Parlor.
January 12,2009-In the Coffee Shop.
February 08,2012-In the Coffee Shop.
February 09,2012-In the Theater.
February 10,2012-In the Pizza Parlor.
August 01,2012-Inside the EPF HQ.
August 05,2012(Last Seen)-Inside the Lodge Attic,sitting near the fish baits.
1st Investigation
According to a team of paranormal investigators,they have seen the penguin inside the lodge attic,sitting near the fish baits.It was staring at them then suddenly a flash of light came out,when the investigators opened their eye's,the creature was suddenly gone.They checked upstairs and the fishing hole,but nothing was there.They are sure they found the Penguin Entity.
Ad blocker interference detected!
Wikia is a free-to-use site that makes money from advertising. We have a modified experience for viewers using ad blockers

Wikia is not accessible if you've made further modifications. Remove the custom ad blocker rule(s) and the page will load as expected.