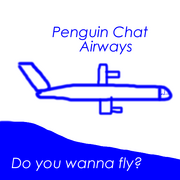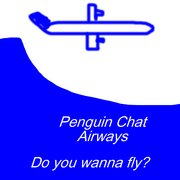 Penguin Chat Airways was a former airliner which merged with Club Penguin AirFlights in 2005. It was a great airline though two incidents caused the crew's responsiblity outraged.
Background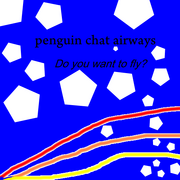 As the avaiation demand grew in Eastshield and former CP Isle, Sir Menuch Erm Velustique, some type of person with a funny language started "Velustique Aero Lines", an airliner which gave services to domestic and inner-state item. Soon, many penguins praised the airline, with Club Penguin AirFlights, Air Antarctic and Antarctican Airlines anger. The airliner grew profit. Alot.
During the 1980s and 1990s, when the Antarctic was just starting to get mordern, it ran flights to domestic areas, such as Pengolia and Trans-Antarctica. However, in 1992 and 1996, the airplane crashed twice, resulting luckily no fatalities but hundreds of injuries, after parachuting and escaping. Reports found that pilot error caused the problem. They fixed the problem and began running again.
In 2002, the airliner has changed their name to Penguin Chat Airways after it run the most daily services there. In 2005, after facing too many debts, it's pre-competitor Club Penguin AirFlights bought the airline. It is now a part of the airliner, with it's airplanes mostly used.
Fleet
They operated a fleet of 41. Average age of fleet: 12.5
Destinations
The destinations before the month merger:
Pengu Town-Pengu Trans-Antarctica Domestic Airport
Cabin
They only contianed Economy Class on all flights. There were chances to make buissness class operations, but failed in 1994 and 1996. Premium Economy started on 2002.
Cabin Classes
The seat was 33" inches pitch per seat for Economy Class. They feature 10.5" inches personal in-flight entertainment and so. It is fitted with all airplanes and made of fine leather of unknown animals from the above.
In Premium Economy, it features 40" inches pitch per seat. They feature 12 inches personal in-flight entertainment and so. It is fitted in only Snowing 717s for flights going to Pengu Town.
In-Flight Entertainment
They featured an in-flight entertainment known as StarTV. They have 17 videos and 17 movies, 10 games and 20 audio items. They are fitted with different screens and are found at the front of the seat.
Also, a magazine known as "Penguin Chat Airways Magazine" is available for reading. Languages include English and Leet. Also, some kind of blah-blah language.
Catering
DUDU Catering provides food to the airliner. It has special meals every day for Premium Economy and normal for Economy. Yum Yum!
Livery
Their livery is a large star at the back coloured in dark blue and some wind behind. Here is a picture:
See Also
Ad blocker interference detected!
Wikia is a free-to-use site that makes money from advertising. We have a modified experience for viewers using ad blockers

Wikia is not accessible if you've made further modifications. Remove the custom ad blocker rule(s) and the page will load as expected.