---
Not to be confused with Penguville
Kopfe verruckter-Pengutown
[[File:|250px]]
A view of Pengu Town International Airport.
No map available.
There is no picture!!!
Vital statistics
Type
Official State capital
Level
No Level
Location
East of Sealville
Inhabitants
See below.
Pengu Town is the state capital of Trans-Antarctica, the most known and the second largest city there too. It is situated next to the sea. Currently, the penguins are trying to rename it as Pengu City to represent a better, Trans-Antarctica culture.
Background
In 2008, 24Keyser founded Pengu Town, representive for Trans-Antarctica in the South Pole Council. He was elected mayor due to that very reason. When he retired, Bob McGoo took over.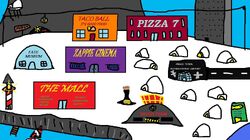 ==Places==
Broadwalk
Skyline Terminal
The Kapaway Lighthouses
TJK Correctional Facility
Flangon Skyscraper
Afoe de Bmanmdon Coffee
Penguz Station
Good-for-trades, buy-or-sell Mall
deSambal Apartments
Keyser Fishing Shop
Home and Appliance Market
Darktonian Pie War Memorial
Zappie Cinema (free AV plug in)
The Pengu Mine
Tactidam Bus Terminal
Fate Musuem
EPF Recon Station
Transportation
Most of Pengu Town's transportation relies on buses. Other than that, the Antarctic Express and Pengu Town International Airport serves as major industries that shape Pengu Town's transportation.
Road
Pengu Town has a total of three highways: Keyser Highway, McGoo Highway and Pengu Highway. Keyser Highway is the largest, a stretch of an approximate 30 miles/19 km. The Trans-Antarctic Expressway passes through Pengu Town, with three exits: Business District, North Suburbs and South Suburbs. Pengu Town has no tolls, thus, it is a popular spot with penguins who travel by car.
Public Transit
There are no trains to transport penguins around Pengu Town, only buses. The Pengu Town Bus Service, or PTBS, has a wide network stretching from the office district to the heartlands. The Pengu Town Bus Service has many routes: a total of 67 as of May 2010. Charges for bus trips depends entirely on the amount of fuel used, ranging from 50 coins to a whooping 1000 coins. There is a bus terminal located in the heart of Pengu Town, which is usually the symbol of public transportation in Pengu Town.
Taxis are also common in Pengu Town. A variety of companies operate taxis. This includes the CabPengu, PPTS and Yellow Cab Service (YCS). Taxis usually charge MUCH higher than buses, the lowest charge being only 150 coins. A fee of 100 coins is charged upon booking a taxi ride, and will increase by 10 coins with each 1.8km/1 mile passed. A penguin could find a taxi in public places and when a taxi passes by on a road.
Air and Rail
The Antarctic Express passes through Pengu Town and stops at Vicks Station, situated at the eastern far-end of the town. Trainlady also passes through this train terminal, headed towards the northeast. Vicks Station is three-storeys high and is situated at Vicks Road.
On the other hand,
Pengu Town International Airport
is the hub for air transportation in and out of
Pengu Town
.
---
See also