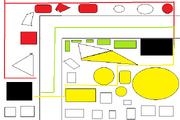 The Outer Streets
of
Mccoon Island
is large and wide. It is actually the neighbourhood, half the size of the island itself.
Geographical Placement
It is located in the south, bordering Mccoon Town and Mccoon Forest
Houses
The House that You Are Very Jealous Of!
Leet House I
Leet House II
Leet House III
Leet House Clone
10 Outer Street (lies the home of Alex12345a in the island)
126 Outer Street (lies the home of Diana111 in the island)
Mertan Street, located between 74 to 76 Outer Street. 75 Outer Street remains inside the inner-street.
Shortcut Way I, located in 54 Outer Street, walk through a drain path, and leads to 67 Outer Street via cross ways and interject-points.
Shortcut Way II, located in 22 Outer Street, walk through a straight-lined drain path to 32 Outer Street.
Mccoon Academy, a school which is at 63 Outer Street.
See Also
Ad blocker interference detected!
Wikia is a free-to-use site that makes money from advertising. We have a modified experience for viewers using ad blockers

Wikia is not accessible if you've made further modifications. Remove the custom ad blocker rule(s) and the page will load as expected.