---
The Club Penguin Maritime Station

This is what you see when you first enter the station.

The Tracks are on different levels.
Vital statistics
Type
Train Station
Level
Very Good and Running!
Location
Club Penguin
Inhabitants
Penguins and puffles

Maritime Station is an underground Subway Station in Club Penguin. It is the starting point of the Antarctic Express tracks.
History
Located 1 mile from the Ski Village, the station began construction in 2008, and was finished and opened to the public in the July of 2009. The Tracks go under the ocean, reaching places as far as Fanon City, where it gets connected to another track. The station is reasonably big and has several tracks. Today, Many Penguins use it because it is faster that boats. On February 5, 2010, there had been a total of half a billion passengers that have passed through the station since its opening. Sometimes they have deals, like on Mondays, when tickets are half off.
Sections
There are multiple sections of the station. Most of the Tracks are built on different levels to prevent Interference with intersecting tracks.
Main Map
Here is the map and all it's tracks: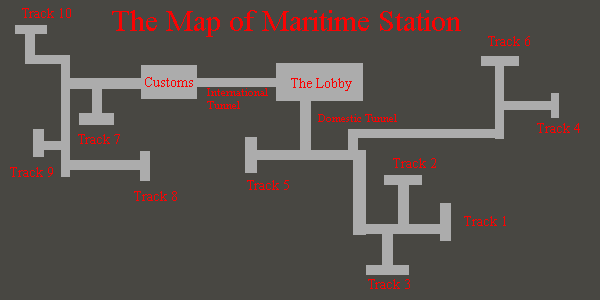 Lobby
Most Penguins enter and get their tickets at the lobby. There is a board that shows arrival/departure times, and directions to ceartain tracks.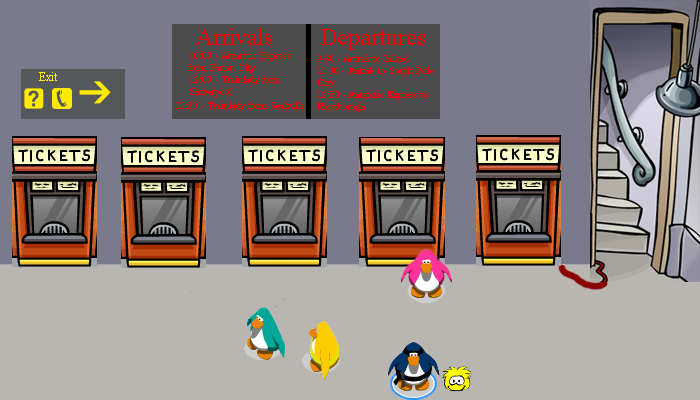 International Tracks
These Tracks go to places outside the USA (but within the Antarctic Circle), and require a passport. You will first have to go to the Customs Department, where you will need to have your passport to board, and where you will be checked to make sure you are not bringing anything illegal. (Arriving Penguins coming in here must do the same) If you fail to have a passport, you will not be able to board the train, or will be sent on a train back to his of her country. There are about Four Tracks there, each going in a different direction.
Domestic Tracks
These Tracks are where most penguins go to. They travel anywhere in the USA (includes Freezeland) and do not need a passport to travel. There are Six tracks total, going to many destinations. There is approximately a train Departure or Arrival every Hour or Half Hour.
See Also