---
---
Magma Puffle

The Magma Puffle
Vital statistics
Title
The Mutated Puffle
Gender
Male
Race
Lava Puffle
Faction
Evil
Health
100
Level
45
Status
Plotting something
Location
with Darktan
Occupation
Interests
Friends
Enemies
Archetype
---
Magma Puffle is a puffle and an ally of Darktan. It is used to weld (or infact, burn) objects or anything made from metal. It is a mutated Lava Puffle.
Background
After Darktan's success with the Lava Puffle, he needed something even more evil. He gave some Ditto to a Lava Puffle. The result was disastrous. The Lava Puffles had already been exposed to ditto once. The puffle grew to be twenty metres tall and appeared to be made of rock with hot lava cracks running through it. It had mutated.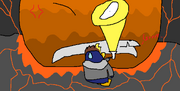 Powers
It is very strong and melts snow wherever it walks. It can shoot lava streams out of the cracks in it's body.
Trivia
He is loyal to Darktan, but seems to have a mind of it's own.
Magma Puffle appeared in The Great Darktonian Pie War. He spoke in a deep Third Person Voice.
Magma Puffle burned Sam Rudi's village and hates him.
See also
Leader: Darktan(I, II)/Maledict
The Conclave of Doom: Herbert Horror, WitchyPenguin, Schnunkle Grunk Robo-Gary, Robo-Sthomas, Robo-Sthomas X, MOAR KRABS,Hypo
Elite Minions: Metal Explorer, Doom Knight, Abyss Knight, High Knights of Darkness, Mectrixctic, Doctor Horror, Nex
The Beastector: Lunar, Cerberus Alpha, Joe Pengzombie, The Beastector
Greater Minions: Xary, Dark Archon, Craáin Sensei, Hi-Jacker-Jack, Dark, Coool41, Maddieworld X, WishFlyX, FieryXold, Jenni, Agent X,12yz12ab X, Pinkroom13, Goof E., Sonic Xtreme X, Trickster X, Pigma55, PorkayYorkay X, Xasper, Peng Waqas,Sthomas,Mart456t.
Minions: Sludge Flinger, Painful Bear, Dark Templar, Dark Falcoz, Magma Puffle, Toro-25, Metal Max1537, Susan von Injoface II,Ferb90210, Shadow the Penguin, Willie Watt, Bellina, Darklina, Mah Boi, Wishfly, Akbaboy X, Zaplock, Shuckle X, Samis X, Xillybob, Doom Chef, Sunglasses Penguin, Johnny Rocket Flippers, Enemy E.vil
Lesser Minions: Manny Peng, MicroChip, Flame Knights, Mischief Makers, Windy, Grumble Fish, Icarus, Lava Puffle, Dragon Knights, Headcrab, Evil Pengy, Puffolian, Isakui, Stoss97, Douglas Thump
Allies:ACP, LEEPB, Fords, Pinkcoolcat II, Robotic Rabbits O' Evil, Mwa Mwa Penguins, Petguins, The Robbers, Demon Penguins, Mectrixctic's Army, The Treacherous Trio, Hawtliss, WishFlyX's Army, Mwa Mwa Puffles, Ollimaunt, STINC, Mr Cow2, Penguin Stewart, Peng Dan, BriPenguin, Penguin Andrew, MarcPeng, Peng Matt
Traitors: Stealth, Radclaw1, Xellina, Zone, Kill, Degeneration X, Blary, Pngi3
Items: Doom Weed, Ditto, Aether Amulet, Pet Shop, Numberry Powder, H.O.R.R.O.R., Dark sword of your doom
Ad blocker interference detected!
Wikia is a free-to-use site that makes money from advertising. We have a modified experience for viewers using ad blockers

Wikia is not accessible if you've made further modifications. Remove the custom ad blocker rule(s) and the page will load as expected.