---
Lobelia Sackvile

She may look nice, but she isnt.
Vital statistics
Title
The scum of Frostborough
Gender
Female
Race
Penguin
Faction
Herself.
Health
Unfortunately, good.
Level
56
Status
Being mean.
Location
Frostborough
Occupation
Interests
Friends
Enemies
Archetype

Lobelia Bracegirdle Sackville is an unpleasent, mean, Freezelandian penguin. Lobelia's principal ambition was to acquire the position of Mistress of Frostborough. She shares a harsh rivalry with Will Whitefoot.
Background
As a young child, she was neglected by her parents, and had to bully others to survive. As she got older, she became meaner, wealthier, and just bullied for fun. Almost makes you feel sorry for her, dont it? When Freezeland was resettled, she lead a group of penguins from Club Penguin to Frostborough. She ran for Frostborough's Mistress, but lost miserably to Will Whitefoot. Her and her son planned to get back at Whitefoot. They made the roof of the Town Hall collapse on him, and it lavered him in chalk.
After that, she planned to ruin the Yule festivals. She somehow became the official Yule-planner for the Yule-feast, and she planned to keep all the good food for herself and her family. Naught but rotten vegtables and an early bed for everyone else. However, a clever penguin, with the help of Will Whitefoot, found out how to stop her. The Book of Festival-Laws stated that if one hundred penguins in the town that the festival was being held dissagreed, then she would be sacked. One hundred signatures were obtained, and it was a happy holiday once more.
Involvement
She is often seen crashing parties, taking candy from chicks, smuggling Mwa Mwa Penguins and MMK merchandise. It is unknown why King Triskelle wont have her arrested.
Trivia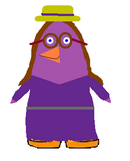 See also
Leader: Alex12345a, TurtleShroom (penguin)
Teacher's Assistant: Close Encounters of the Nerd Kind, Babypuff, KingH10
Hailers: Lobelia Sackville, Fake Tails6000, Fredrick, Ethan, Mabel von Injoface XVIII, 12yz12ab
Praisers: Speeddasher X, Bill Gate$, Fudd, Zoramask
Mega-Fans: Bucket, Taerar, Dan Beronews (May be promoted to Praiser)
Ordinary Members: Barkjon, Zapwire, Jolene Tan, Voltaire, Chill57181, Paul von Injoface,Bartholomew (rumoured ONLY),
Items: MMK Merchendise
Allies: Perry the Puffle, Mabelism
Ad blocker interference detected!
Wikia is a free-to-use site that makes money from advertising. We have a modified experience for viewers using ad blockers

Wikia is not accessible if you've made further modifications. Remove the custom ad blocker rule(s) and the page will load as expected.