---
Lava Puffle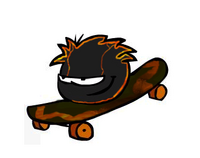 Don't plan on keeping one of these

{{#if:LR/nt|
Conservation Status
Scientific classification
| | |
| --- | --- |
| Domain: | Eukaryota |
| Kingdom: | Animalia |
| Phylum: | Chordata |
| Class: | Mammalia |
| Subclass: | Theria |
| Infraclass: | Eutheria |
| Order: | Figmentixyli |
| Family: | Moschomicrotheridae |
| Genus: | Moschomicrotherium |
| Species: | Moschomicrotherium pufflei |
| Subspecies: | M. p. vulcano |
Trinomial Nomenclature
Moschomicrotherium pufflei vulcano
Lava Puffles only live in the Darkonian Realm with their master, Darktan.
Synonyms
Flame Balls

Lava Puffles are one of Darktan's minions, though not as dangerous as Abyss Knights. Instead of fire balls, they turn into lava balls.
Background
Before The Great Darktonian Pie War, Darktan wanted to have a pet that was as destructive as he was. Using the technuiqe he used to create the Abyss Kinghts, he gave some Ditto to a Black Puffle. The result was a evil puffle species that wanted nothing more than to serve Darktan, and help him take over the USA. They spend most of they're time eating Lava Rocks, and skateboarding.
Involvement
Lava Puffles are slightly larger than most puffle species, and are twice as grumpy as Black Puffles. They will sometimes even try to bite someone who tries to adopt them. The only penguins they are loyal to are Darktan, and his minions.
Trivia
See also
Leader: Darktan(I, II)/Maledict
The Conclave of Doom: Herbert Horror, WitchyPenguin, Schnunkle Grunk Robo-Gary, Robo-Sthomas, Robo-Sthomas X, MOAR KRABS,Hypo
Elite Minions: Metal Explorer, Doom Knight, Abyss Knight, High Knights of Darkness, Mectrixctic, Doctor Horror, Nex
The Beastector: Lunar, Cerberus Alpha, Joe Pengzombie, The Beastector
Greater Minions: Xary, Dark Archon, Craáin Sensei, Hi-Jacker-Jack, Dark, Coool41, Maddieworld X, WishFlyX, FieryXold, Jenni, Agent X,12yz12ab X, Pinkroom13, Goof E., Sonic Xtreme X, Trickster X, Pigma55, PorkayYorkay X, Xasper, Peng Waqas,Sthomas,Mart456t.
Minions: Sludge Flinger, Painful Bear, Dark Templar, Dark Falcoz, Magma Puffle, Toro-25, Metal Max1537, Susan von Injoface II,Ferb90210, Shadow the Penguin, Willie Watt, Bellina, Darklina, Mah Boi, Wishfly, Akbaboy X, Zaplock, Shuckle X, Samis X, Xillybob, Doom Chef, Sunglasses Penguin, Johnny Rocket Flippers, Enemy E.vil
Lesser Minions: Manny Peng, MicroChip, Flame Knights, Mischief Makers, Windy, Grumble Fish, Icarus, Lava Puffle, Dragon Knights, Headcrab, Evil Pengy, Puffolian, Isakui, Stoss97, Douglas Thump
Allies:ACP, LEEPB, Fords, Pinkcoolcat II, Robotic Rabbits O' Evil, Mwa Mwa Penguins, Petguins, The Robbers, Demon Penguins, Mectrixctic's Army, The Treacherous Trio, Hawtliss, WishFlyX's Army, Mwa Mwa Puffles, Ollimaunt, STINC, Mr Cow2, Penguin Stewart, Peng Dan, BriPenguin, Penguin Andrew, MarcPeng, Peng Matt
Traitors: Stealth, Radclaw1, Xellina, Zone, Kill, Degeneration X, Blary, Pngi3
Items: Doom Weed, Ditto, Aether Amulet, Pet Shop, Numberry Powder, H.O.R.R.O.R., Dark sword of your doom