---
Klutzy

Klutzy's suspect photo.
Vital statistics
Title
Klutzy the Crab
Gender
Male
Race
Club Penguin Crab
Faction
Penguins highly believe that this crab flooded the island during The Water Party
Religion
Health
Something is wrong with it's head, just like Herbert's
Level
Status
Very Bad
Location
Club Penguin Island
Occupation
Interests
Friends
Herbert
Enemies
PSA, EPF, You
Archetype
Klutzy is a intelligent crab ever whom is helping out Herbert. Penguins highly believe that this crab flooded the island during Water Party The Water Party. These days, Klutzy and Herbert have diminished in international threats (but are still at large in CP), as their mischeif is made pale to the destruction of Darktan.
Background
Klutzy's birth date is unknown, but he was born in the olden-days of the CP Cove. His family had left him when he was most probably five and lived for long. His best friend was a rather cowardly Pufferfish and they would spend their days playing together and counting coins that had fallen into the ocean. They would also enjoy tapping on the glass at the pool.
One day however, he helped Herbert from an iceberg and soon Klutzy left his home to pursue a life of crime with the bear. He helped Herbert in mischievious missions and got defeated many times. After the PSA did not focus much on them, and Herbert was starting to realize that penguins aren't so irratating, he stopped doing much mischief. Nowadays, Klutzy comes along to buy stuff.
Involvement
Klutzy is almost in every mission. Keep an eye out for him, and don't forget Herbert either! As an agent, you have to stop this crab.
Intelligence
According to reports by a major EPF source, Klutzy can sometimes be an idiot.Turn the lights on, he won't notice. He stands outside and watches planes go by, clicking "AIR-PLANE, AIR-PLANE!".
Klutzy was duped by a penguin in a cheap crab costume. By mimicking Klutzy's actions, the penguin tricked the poor thing into thinking he was seeing his reflection. Of course, the penguin had to actually look and sound like a crab when Herbert walked in (by jumping on the floor and curling into a ball while making clicking sounds), but before Klutzy, the penguin stood up and showed his beak to the crustacean, and he didn't bother to notice.
But at times Klutzy has his own smart moments.
He once was found by King Akuma, Took him and mutated him in to "Maga-Klutzy".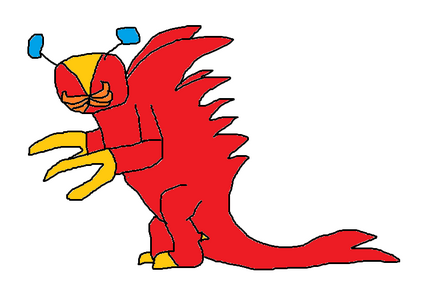 Subtitle: Mutant-Crab Super-Beast
Trivia

Klutzy is believed to have flooded the island in the Water Party.
Klutzy practically worships Herbert and the ground he walks on.
Klutzy's claws are sharp enough to cut stainless steel as thick as a human's thumb.
Klutzy could, in theory, slit the throat of a penguin with his sharp claws, but he's too stupid to do it.
He has, somehow, managed to almost ruin Herbert's plan at least 4 times.
Klutzy is adorable- or at least, that's what 87% of surveyed Agents responded with in a survey.
Herbert can understand everything he says.

So does Guinny.

Mcdonalds394 already knows it. Note: Klutzy is more attracted to Mcdonalds.
See also