Wanna hear Katt's Theme? Go here
History
Katt the Penguin (Katherine Le Pengu) was born in 18, October 1999 in Club penguin island , 1 year younger than her brother Percy. When she was 3, she found a strange thing, it was a coin, she didn't know that it was a coin, so she kept it, When she entered kindergarten, she was a total prankster, she made friends with Lean and Lyn, then she met Rookie in school, they are friends since then. She was bullied a lot in school cause she want like a normal penguin, her friends protected her, thats why she owes them one, And a big one.
Biography
In 2016, she and her brother Percy and her sister Heather, made a band called Rad Guyz. They were a success and have sold 3 million copies of their debut studio album. === EPF Agent ===In 2017, she was invited by a friend of hers to the EPF agency. During testing for approval, she almost completely failed the test, due to thinking thoughts about pranking other penguins. But she quickly forgot, got approved, and is respectful towards other penguins.
Trivia
1.-She was the only one that was born with a rainbow hair in her family.
2.-As we can see, she likes Rookie. 
3.- She has a puffle called Lemonade, and a deer puffle called Dear Deer, so she has to waste around 300,5 coins on just feeding them. 
4.- She doesn't like too much color in things, quite is a bit strange, cause her hair is rainbow. 
5.- She knows the island too much, that much that she remembered where she did leave her phone when she lost it. ( it was in a forest tree) 
6.- She likes cookies.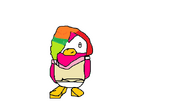 7.- She is a bit clumsy, like the time she gave his brother her diary. (no really, she did.)
8.- She is a driver in the famous rocket sport engine racing, and drives a 8T8 Twin-Block engine.
Gallery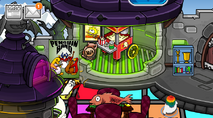 -
Main Branch:
Leader:
The Director
Inventors: G, John, Foldy (part-time)
Top Agents: Ford Car, M, Top Agent Stank. Beaky4444, DotA, Star Kirby12, Richperson, Rico, Lily8763, Sabrina Sylvia
G.E.T. P.R.O.T.E.C.T.I.O.N.S.: The Defenders, Slanta Furious, GP Agents, Luke Firehand
Honorary Members: Link, all of G's Family, Dancing Penguin, Het1692, Tomoyo,T the gadget gal.
EPF Branch:
EPF & Military: General Puff, Speeddasher, Freeze, Omega, Rookie, Jet Pack Guy, Dan, Coool31, Dot, Agent T, Sam Rudi, Swiss Ninja, Icecuber2d2, EDFan12345, Agent A, Flywish, Katt the Penguin Tomoyo Jr, Suandep, Zang, Xang, Akbaboy, Mcmahon654, KingH10, Special Assignment Team, Jake Lovesfish, Agent Snowshovel, Agent Snowcat, Lord Reginald
Corps:
Sigma Corps: Agent LJM, , Agent T,
Gamma Corps: Kayla Hopper, Canren's Parents, X-R-CISE, Aaro6
Beta Corps: Pearface, Yaaaaaay, Fridge, Loop, Hone, Elementa, Surf-Dude, Manbu3
Zulu Corps: Agent AD, Agent Billy, Agent Jenny
Alpha Corps: Agent Alex, Agent Li, Agent Paulo, Agent Rex, Agent Amber, Our Founder, TurtleShroom (penguin)
Sub-Groups, Allies etc.:
Metal Force and Time Agency Division: Metalmanager, Korobase, Norman, Flamejob56, Bow Tie Group, Sk8itbot , The Time Director, The Leader, Kwiksilver, Ford Car, Idoreconise, Skyblue1229, CPRE | Doohickey Squad: Explorer 767, Barkjon, Happyface141, and Fred 676 (all of which are members of Doohickey Industries/The Troublesome Trio)
Garbage Agency (disbanded):
Bert
Allies PPT, Mounties, League of Super Penguins, Antarctic Investigation Authority, Antarctic Identification Bureau, Printer's Sweepstakes Agency, Terry the Puffle, Criminal Nautical Investigation Company, The Defenders, Ethan, S.P.P.P., The Master Puffles
Other: Ice Cata, Maxwell Dumb, Kim Plausible, Ronald Preventable, Agent Turtle, Tomoyo, Tomoyo Jr. Suandep, Alex12345a, Tyson, Haley, Phone of the Elite and Privelaged Few, Spy Phone