---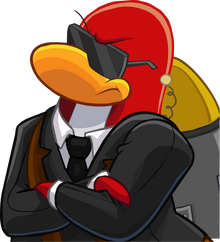 Henry G. Oswell
[[|250px]]
'
Vital statistics
Title
Jet Pack Guy
Gender
Male
Race
Adelie Penguin
Faction
PSA
Health
Excellent
Level
5 star rank
Status
Exploring using his jetpack, hence the nickname Jet Pack Guy
Location
Everywhere
Occupation
PSA agent
Interests
exploring
Friends
The Good Guys
Enemies
The Bad Guys
Archetype
Hero (agent)

Henry G. Oswell or Jet Pack Guy is PSA agent who operates around Club Penguin. He is, however, part of the EPF so on some cases you might find him around somwhere else.
Background
Early Life
Henry was born in 1983 to John H. Oswell and Mary A. Oswell in Club Penguin Island. When he was 4, he wanted to be a hero and save the world. This has led him to become a PSA agent.
Recent life
During the Beta Era, he went to Club Penguin and received a party hat. He never really went out in public. He was working on a prototype flying machine. In the end, he ended up with something that looked like a RocketSnail's rocket. He brought his idea to Gary the Gadget Guy, who liked the idea. When Gary tested it, he found it very complex to control. Gary liked the idea and let Jet Pack Guy into the PSA. For the time being, he flew his old invention around to patrol Club Penguin. Eventually, G founded a easier flying prototype which is faster, more powerful and easy to maneuver. It was given to Jet Pack Guy for him to test it. He had to go against his own invention and a penguin using a propeller cap. Jet Pack Guy beat both of them (in case you want to know, the old Jet Pack beat the propeller cap). He became a natural pilot of the Jet Pack. The Director took note and began plans. He decided to let Jet Pack Guy into the EPF due to his piloting skills. One day, he saved Rookie from being eaten. Rookie was on the Iceburgh and began to jump up and down because he wanted it to tip. Then, the piece he was on cracked off! (he was on the edge) And everybody presumed he was dead. His mom, Pookie and Jet Pack Guy were the only ones who didn't think so. (Jet Pack Guy is his best friend) So Pookie pleaded for Jet Pack Guy to go out on his 'Flying machine' and look for him. He found him 6 miles away on Cookie Island. But Rookie was about to be eaten by a hungry Seal!!! They flew back to Club Penguin and he was safe!
Trivia
He has the Beta hat but he doesn't wear it.
He has a puffle sized Jet Pack for his puffle.
Agent A is a good friend of his.
He caught Klutzette and asked her Have you done anything agentst the law?" She resopned "I hack,cheat,rob banks so on so forth... and I flodded the pool during the water party!" Jet Pack Guy is hunting her down,however.
Friends with Jaquan126
See Also
Main Branch:
Leader:
The Director
Inventors: G, John, Foldy (part-time)
Top Agents: Ford Car, M, Top Agent Stank. Beaky4444, DotA, Star Kirby12, Richperson, Rico, Lily8763, Sabrina Sylvia
G.E.T. P.R.O.T.E.C.T.I.O.N.S.: The Defenders, Slanta Furious, GP Agents, Luke Firehand
Honorary Members: Link, all of G's Family, Dancing Penguin, Het1692, Tomoyo,T the gadget gal.
EPF Branch:
EPF & Military: General Puff, Speeddasher, Freeze, Omega, Rookie, Jet Pack Guy, Dan, Coool31, Dot, Agent T, Sam Rudi, Swiss Ninja, Icecuber2d2, EDFan12345, Agent A, Flywish, Tomoyo Jr, Suandep, Zang, Xang, Akbaboy, Mcmahon654, KingH10, Special Assignment Team, Jake Lovesfish, Agent Snowshovel, Agent Snowcat
Corps:
Sigma Corps: Agent LJM, , Agent T,
Gamma Corps: Kayla Hopper, Canren's Parents, X-R-CISE, Aaro6
Beta Corps: Pearface, Yaaaaaay, Fridge, Loop, Hone, Elementa, Surf-Dude, Manbu3
Zulu Corps: Agent AD, Agent Billy, Agent Jenny
Alpha Corps: Agent Alex, Agent Li, Agent Paulo, Agent Rex, Agent Amber, Our Founder, TurtleShroom (penguin)
Sub-Groups, Allies etc.:
Metal Force and Time Agency Division: Metalmanager, Korobase, Norman, Flamejob56, Bow Tie Group, Sk8itbot , The Time Director, The Leader, Kwiksilver, Ford Car, Idoreconise, Skyblue1229, CPRE | Doohickey Squad: Explorer 767, Barkjon, Happyface141, and Fred 676 (all of which are members of Doohickey Industries/The Troublesome Trio)
Garbage Agency (disbanded):
Bert
Allies PPT, Mounties, League of Super Penguins, Antarctic Investigation Authority, Antarctic Identification Bureau, Printer's Sweepstakes Agency, Terry the Puffle, Criminal Nautical Investigation Company, The Defenders, Ethan, S.P.P.P., The Master Puffles
Other: Ice Cata, Maxwell Dumb, Kim Plausible, Ronald Preventable, Agent Turtle, Tomoyo, Tomoyo Jr. Suandep, Alex12345a, Tyson, Haley, Phone of the Elite and Privelaged Few, Spy Phone
Ad blocker interference detected!
Wikia is a free-to-use site that makes money from advertising. We have a modified experience for viewers using ad blockers

Wikia is not accessible if you've made further modifications. Remove the custom ad blocker rule(s) and the page will load as expected.