Inland is a medium quality article.


This article is classified as a Medium Quality Article. It could be better. Please try to expand it and add further content, such as information, links, pictures, quotes, etc.
---
| | |
| --- | --- |
| | This article is Redlinked. |
---
Inland

The location of Inland, 2010.
Location
Country
Eastshield, USA
Area
Slightly smaller than South Pole City
Monuments
Magnetic Park, Geneese Airport, Highway 2, Megatopa Store.
Headquarters
Inland Mayor's Office.
Neighbourhoods
Five (districts)
Mayor
Mayor McFlapp
Population
Population
More than 3 million.
- rank by 2009:
3,573,421
Inhabited species
Penguin, puffles.
General information
Native name
Inland
Foreign name
Insland (Penguinian), Inslandia (dialect)
Demonym
Inlandish
Founded
Before 1900s
- founder
Not specified
Time zone
UTC -1 (Universal Ternville Clock One Hour Behind)
- summer
UTC (Universal Ternville Clock)
Area codes
2

Inland is a town only 40 miles northeast of South Pole City, USA's fourth-largest metropolis. Since it's very near it makes sure that South Pole City does not get too overcrowded. It is a tiny bit smaller than SPC.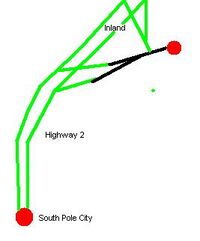 Places
Inland is always crowded so they have lots of hotels. The also have the very famous Megatopa Store which is a 5 floor mall. There's a libary connected to it then a few small shops. It shares highways and trains with South Pole City. The city has a small airport, Inland-Genesee Regional Airport, which offers short-haul flights to and from Club Penguin City, Zurich, South Pole City and Saint-Moritz.
The Magnetic Park shows all the magnetic poles from 1900-1954 before it moved back near the south pole. From large museums to small gas stations, this city is buzzling with lights and sounds. The city has 10 urban parks, one of which will be upgraded to National Park Status. The city used to be a ten-hour drive from South Pole City, due to mountains in the way of the Highway's main path. A new Highway 2 route cuts a path right throgh the terrain.
Districts
The city has districs that are like neighbourhoods. They are:
CBD
The Central Buissness District is where all the major offices are located.
Downtown District
The Downtown District is the most popular district in Inland.
Industrial District
The Industrial District is a pollution stricken area of Inland. The large ammount of factories here has polluted the area. Trucks are a common sight here as the factories and warehouses supply up to 95% of Inland.
Inland Founding District
The Inland Founding District is not the founding district. It is one of the neighbourhoods in Inland. It is, however, the biggest neighbourhood in the city.
Inpuff Heights
Inpuff Heights is the mountain district of the city.
Inhabitants
Climate
Climate chart for Inland
J
F
M
A
M
J
J
A
S
O
N
D

average temperatures in °C




precipitation totals in mm
Resources
Food
Gasoline
Souvenirs
Puffles
Books
Housing
Building materials
Pebbles
Gems
Fish
Snow
Water
Cream Soda
Wood
Trees and tree seeds
Trivia
-Manny Peng was deleted at a gas station near here.
-One reason Inland isn't bigger is because the Inpuff Heights create a certain wind flow around the area Manny Peng got deleted, thus making it hard to build major structures near the gas station where he got deleted.
See also
Ad blocker interference detected!
Wikia is a free-to-use site that makes money from advertising. We have a modified experience for viewers using ad blockers

Wikia is not accessible if you've made further modifications. Remove the custom ad blocker rule(s) and the page will load as expected.