Picks
Mordecai and Rigby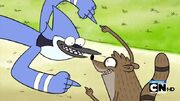 Keep Up the Mario by DJ Crow and Swiss Ninja
Die Once by Puffl3, Andrew Gonzalez and Tim and Tom
Party Rock Anthem by Penguin Band (feat. Candence)
Quotes
Keep Up the Mario by DJ Crow and Swiss Ninja
Mordecai: Hello. I am Mordecai.
Rigby: And I am Rigby!
Mordecai: And we are going to pick out our favorite songs, iceTuners!
Rigby: iceTuners? iceTunes? Dude, we were suppose to go to iTunes!
Mordecai: It is the right place. Eh... sorry iceTuners. First we are going to give you a all-time favorite song.
Rigby: Hint: It surprisingly has a video game charecther.
(Pause)
Mordecai: Dude, you don't have to give out hints!
Rigby: So what?
Mordecai: ... (Pause) Eh, sorry iceTuners! The song is Keep up the Mario by DJ Crow and Swiss Ninja!
Rigby: Tune it up!
Mordecai and Rigby: Woooooooooooooooooooo!!!
Die Once by Puffl3, Andrew Gonzalez and Tim and Tom
Rigby: I can't believe you recommended that! I like the Keep up the Mario part! I makes me want to...
Mordecai: Don't do that.
Rigby: Never mind. But anyway, our next song is Die Once by Puffl3, Andrew Gonzalez and Tim and Tom. Let's do it! *nods like a rock star*
Mordecai: Dude, I told you not to do it!
Rigby: So what?
Ad blocker interference detected!
Wikia is a free-to-use site that makes money from advertising. We have a modified experience for viewers using ad blockers

Wikia is not accessible if you've made further modifications. Remove the custom ad blocker rule(s) and the page will load as expected.