---
Great Darktonian Pie War is a

FAOTW

Winner!

Congratulations, Creator Of Article! Great Darktonian Pie War is, or was once a Featured Article of the Week.

To vote for this week's Article of the Week, follow the link!
The Final Showdown


Combatants
All the good guys:
Explorer
Fred
Happyface
Billy Mays
Barkjon
Tails6000
Speeddasher
Kwiksilver
Ninjinian
Blizzard
Austin8310
Willy the Penguin
Frosian Warriors
Guymed
EDFan12345

The side of evil: Darktan, Metal Explorer , Manny Peng, and STINC.
High Penguin Remnant Army,
Ancient High Penguins out of Exile
Zero Reverse Army
,
TerraMount Military Forces
Terra Federationn Enforcer Corps

Commanders
Professor Shroomsky
Luce

Darktan
Maledict

Triskelle, Finwë, Ulmos, Jackio, Ninjinian (for Zero Reverse), James Macworth
Strength
Hundreds of Thousands of Good and Eager Creatures of All Species, great and small.
Around 1,000,000 villains and baddies, including the army and others.
6000 High Penguins, Over 10000 Garments of Clothes, 1st Legion, UnitedTerra Forces and Allies
Casualties
A lot of bruises, scars, wounds, pie stains, EDFan had a broken leg, nothing too bad though.
PWNage, loss of dignity, bruises, scars, wounds, pie stains, nothing too bad though.
Nausea from cleaning product fumes, pie stains, nothing too bad though.
They fought with pies!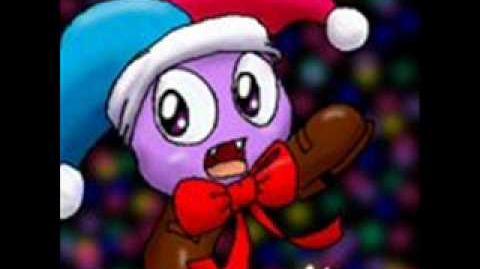 The Great Darktonian Pie War, officially designated "The Final Showdown" by the High Penguins, sometimes called Dagor Dagorath, is a last ditch attempt, with every good creature in Antarctica plus the Str00del Force, the Jerks, The Leader and even the Dark Penguins facing off against Darktan and his minions. Also, FW has joined the fight.
It was a long war, because King Triskelle, their Navy, and every High Penguin except Luce fled to their homeland of Arda.
Luce claims that this is the fabled "Dagor Dagorath" (the Battle of Battles).
However there were no serious injuries during the conflict.
A game was released in Freezeland about it.
Story
The whole story is divided into the chapters linked below:
See also
Hand-held weapons: Banana Blaster, Snowball Gun, Fruit Blaster, Knicicle, Keysaber, Pie Guns, Ice Blade, Freeze Ray, Bayonet, KEI Cannon, Flamethrower, Pancake Launcher, Starcicle Dark sword of your doom add more
Vehicles: Pie Tank, Wheelbarrel, MEAP, AMOEBA, LATTU, Judgey Tank, Ditto Tank, Avatar (Mech), Avatar Warmech V2, Crawler, All-Purpose Snow Cat, Rescue Vehicles add more
Missiles and Bombs: Deletion Missile, Deletion Slicer Missile, KZT XXX, T.H.I.S., Heat Missile, Freeze Missile, Glue Missile, Ditto Missile, Deletion Slicer Missile, Snowzer Cheese, Flywish Property Missle, Shadow Missile, Deluge Missile, EXPECTSEALS Ditto Nuke, Powerbomb, Ditto Grenade add more
Weapons of Mass Destruction: XXX, Freeze Missile, Heat Missile, 50-megaton delete nuke, Avatar Warmech V2, Mega PWN Cannon,Dark sword of your doom
Tank Shells: Judgies, Pies, OxiPie
Chemicals: Ditto, Ditto Plus, Ditto Snowball, Ditto Gas add more
Wars: Great Darktonian Pie War, Khanzem, Twilight and Shadow, Eastshield Missile Crisis, Giant Swiss-Terrain Cookie War, Great Wishing Hun Conflict, Great Snowzerland War I, Great Snowzerland War II, Great Snowzerland War III, The Final Battle add more
Misc.: Deletion Flux Crystal, Z-similation, CyberVoid, Mecha-Peng add more
Ad blocker interference detected!
Wikia is a free-to-use site that makes money from advertising. We have a modified experience for viewers using ad blockers

Wikia is not accessible if you've made further modifications. Remove the custom ad blocker rule(s) and the page will load as expected.