Frilly is Franky's little sister who is also Franky's rival. She usually acts in The Stage and is the co-host of The Penguin Play awards. Her most favorite party is the Beta Test Party. She doesn't attend Music Jams due to majority of the audience fanboying over Franky's band, the Penguin Band. Most people think she's a pookie due to her appearance, but she's actually not because not knowing about the existence of pookies. Her best friend is PH and she always helps her discover new puffles in the horizon. Knowing about Cadence and Franky's relationship via emotions, strange, crazy excitement in room, and working together in the band. Once she did, she started teasing Franky more. During her early years, she chased Franky around the room, because of the hat that she always wanted. (And she didn't even know it was just created by G Billy exclusively for the Penguin Band.) Now, she started pranking Franky's albums by adding a "Parental Warning" sticker and it wasn't even violent and blood-curdling loud. As Franky was losing population, Frilly started making more (legit) copies of Franky's albums, which made Franky happy, not knowing Frilly was the one who did it. Now, she is waddling somewhere in Club Penguin, but when most penguins come online, she starts going home. (Which explains why penguins don't see Frilly often.)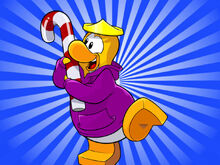 FRILLY'S LOOK:
HER CD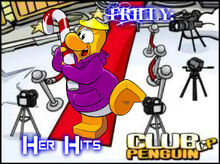 OF ALL THE PLAYS SHE PERFORMED IN:
Ad blocker interference detected!
Wikia is a free-to-use site that makes money from advertising. We have a modified experience for viewers using ad blockers

Wikia is not accessible if you've made further modifications. Remove the custom ad blocker rule(s) and the page will load as expected.