---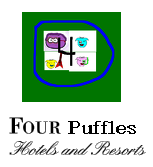 Four Puffles Hotel is the most famous hotel chain in Antarctica, formed suprisingly by Penghis Khan and his servants, later sold to his servants. It has a hotel in almost every country and state of countries with states, including the UPR.
History
When Penghis Khan needed somewhere to sleep during the five day debate in the South Pole Council in 2005, he ordered his servants to build a hotel called the Four Puffles. It became very popular and has spread all over the USA.
Hotels
Eastshield, USA
Penghis Khan Four Puffles (Pengolia Capital)
Penghis Khan Hates Mabel Four Puffles (Pengolia Capital Outskirts)
Penghis Khan Wants You To Stay In This Hotel Hotel (Pengolia Capital Outskirts)
Penghis Khan Is No Good Hotel (Pengolia Capital Outskirts)
add more
Free Republics of USA
Levels
Please read from top to bottom
Reception, Penguins and Puffles Restarunt and Cafe, PuffleLand Playroom, Garden Relaxation Lodge, Adult Penguin and Puffle Gambling Area Casino.
Standard, Relaxation Library, Puffle Nursury
Standard, Puffle Walk Park
Standard, Pets and Owners Grand Swimming Pool
Standard
Deluxe, Fit Fit Fitness Center
Deluxe, Luxury Experience Spa
Deluxe
Primier, Hallway To Special Suites
Primier
Suite
Stray Puffles Suite
Rooftop Party, VIP Lounge, Quest for the Rainbow Puffle
Trivia
There is always a potrait of Penghis Khan on the every floor.
This is an obvious parody to a hotel in reality. Answer here!
they are a rising bussines empire
See Also
Ad blocker interference detected!
Wikia is a free-to-use site that makes money from advertising. We have a modified experience for viewers using ad blockers

Wikia is not accessible if you've made further modifications. Remove the custom ad blocker rule(s) and the page will load as expected.