---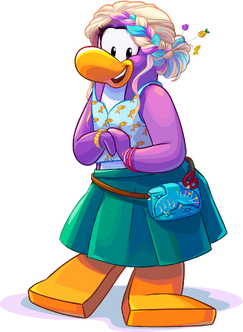 Dot, a.k.a Agent D or full code name Dot The Disguise Gal, she is the EPF agent whom is in charge of being their master of disguise, or in other words, helps with anything that needs penguins with disguises. She is similar to Agent LJM of the normal PSA. She is polite, kind and is friends with Coool31. She is currently 19 years of age.
Background
Dot was born in the Southern Rockhopper Colony despite being a Northern Kanta Penguin. One day, at the local school, a Jerk wants to beat her up at noon. She has to disguise herself so no one could see her. She later switched her blue T-Shirt with a red one, wore a wig (which is so, so crazy) which is yellow unlike her usual hairstyle which is blonde. She also wore Dorkugese glasses, a checkered skirt and blue sandals to replace her blue skirt and red slippers.
When she passed by the bully, the bully asked her:
"Have you seen Dot?"

"No, I did not."

"Well... have you seen anything that belongs to Dot?"

"Not at all!"

"Who are you, anyway?"

"I am Jenny. I transfered from the Penguin Academy"

"Oh. See you around."

When class started, she switched to her current outfit. Thankfully the bully wasn't in the same class! The next day, the bully came to look around for Dot. However, Dot complained to the teacher and the bully was scolded. That was the start of her carrer.

Later, Zang met her and instantly liked her, Dot knows and is rather "creeped out" by it. And annoyed by his "always yelling and always mad" trait.
Involvment
She is the master of disguise for the EPF agent.
Trivia
If you are wondering what happened to the bully the next day... he transfered schools.
her EPF codename is agent D
Zang has a crush on her.
Gary the Gaget Dude X has a secret crush on her.
She has a crush on JPG.
See Also
Main Branch:
Leader:
The Director
Inventors: G, John, Foldy (part-time)
Top Agents: Ford Car, M, Top Agent Stank. Beaky4444, DotA, Star Kirby12, Richperson, Rico, Lily8763, Sabrina Sylvia
G.E.T. P.R.O.T.E.C.T.I.O.N.S.: The Defenders, Slanta Furious, GP Agents, Luke Firehand
Honorary Members: Link, all of G's Family, Dancing Penguin, Het1692, Tomoyo,T the gadget gal.
EPF Branch:
EPF & Military: General Puff, Speeddasher, Freeze, Omega, Rookie, Jet Pack Guy, Dan, Coool31, Dot, Agent T, Sam Rudi, Swiss Ninja, Icecuber2d2, EDFan12345, Agent A, Flywish, Katt the Penguin Tomoyo Jr, Suandep, Zang, Xang, Akbaboy, Mcmahon654, KingH10, Special Assignment Team, Jake Lovesfish, Agent Snowshovel, Agent Snowcat, Lord Reginald
Corps:
Sigma Corps: Agent LJM, , Agent T,
Gamma Corps: Kayla Hopper, Canren's Parents, X-R-CISE, Aaro6
Beta Corps: Pearface, Yaaaaaay, Fridge, Loop, Hone, Elementa, Surf-Dude, Manbu3
Zulu Corps: Agent AD, Agent Billy, Agent Jenny
Alpha Corps: Agent Alex, Agent Li, Agent Paulo, Agent Rex, Agent Amber, Our Founder, TurtleShroom (penguin)
Sub-Groups, Allies etc.:
Metal Force and Time Agency Division: Metalmanager, Korobase, Norman, Flamejob56, Bow Tie Group, Sk8itbot , The Time Director, The Leader, Kwiksilver, Ford Car, Idoreconise, Skyblue1229, CPRE | Doohickey Squad: Explorer 767, Barkjon, Happyface141, and Fred 676 (all of which are members of Doohickey Industries/The Troublesome Trio)
Garbage Agency (disbanded):
Bert
Allies PPT, Mounties, League of Super Penguins, Antarctic Investigation Authority, Antarctic Identification Bureau, Printer's Sweepstakes Agency, Terry the Puffle, Criminal Nautical Investigation Company, The Defenders, Ethan, S.P.P.P., The Master Puffles
Other: Ice Cata, Maxwell Dumb, Kim Plausible, Ronald Preventable, Agent Turtle, Tomoyo, Tomoyo Jr. Suandep, Alex12345a, Tyson, Haley, Phone of the Elite and Privelaged Few, Spy Phone