Club Penguin: The Music CD
is a CD coming soon to Disney and
Club Penguin
fans. It was written by
Bubby00000
.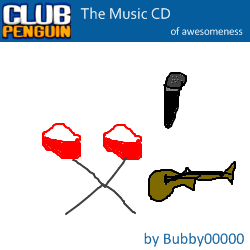 List Of Songs
Water Party song
Fall Fair 2008 song
Jet-Pack Adventure Song
Club Penguin TV Theme Song
Puffle Round-Up Song
Adventures of Tails6000 Theme Song
Extras By Bubby
Through the power of Tail's fictional universe box-based transporter, Bubby was able to get theme songs and other stuff.
Bubby00000 proves he will be in Adventures Of Tails6000
Bubby00000 sings the Total Drama Island Theme Song
Bubby00000 talks about Crisis 1
Ad blocker interference detected!
Wikia is a free-to-use site that makes money from advertising. We have a modified experience for viewers using ad blockers

Wikia is not accessible if you've made further modifications. Remove the custom ad blocker rule(s) and the page will load as expected.