---
Clearwater Island
[[File:

|250px]]
A view of a section of the Lendfell's private expanse of beach, with the family sailboat, The Mullet, moored in the ocean and Rona Lendfell's legendary gold surfboard to the left. Photo take by Eve Lendfell.]]
No map available.
{{{mapcaption}}}
Vital statistics
Type
Tropical Island, oddly.
Level
100+
Location
Off the coast of Eastshield.
Inhabitants
Tourists, a few penguins that own shops, a couple of assorted puffles

Clearwater Island is an island located off the coast of Trans-Antarctica. This is the where the town, Beachville is located. The island itself looks like a whale's body from above.
Background
It was found in 1998 by Eve and Rona Lendfell's father, and inducted into the USA in 1999. It is a popoular tourist destination due to Beachville and all of the jungles deeper into the island. It is unknown why it has a tropical climate, with it being so close to Antartica. It is different, but not a bad kind of different. It is treated like it's own private country, since it is self-supporting. It is NOT a real, official country in the USA, though. It IS a free republic. The South Pole Council goes there every summer on vacation. Free Republic English is not used there, instead USA english is used. The Lendfells have a private expanse of beach and a cove all to themselves.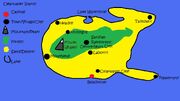 ==Places==
Beachville, the popular Clearwater Bay, the jungles, beaches. Some tropical themed shops, several piers and the Lendfell's private cove.
Inhabitants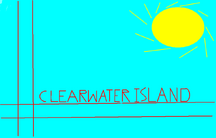 Tourists, some penguins that own shops, a few assorted puffles. Eve Lendfell, the delegate for it in the South Pole Council, was born there, and her sister, Rona Lendfell lives there.
Villains
Orcas and seals far out in the oceans, focci in the jungles.
Resources
Sunshine, real sand, beach items, cheesy souveniers.
See also
Free Republics of the USA
Ad blocker interference detected!
Wikia is a free-to-use site that makes money from advertising. We have a modified experience for viewers using ad blockers

Wikia is not accessible if you've made further modifications. Remove the custom ad blocker rule(s) and the page will load as expected.