---
---
Bucket

Bucket, Making a day of his job cleaning
Vital statistics
Title
Cleaner for PengStation Head Office
Gender
Male
Race
Penguin
Faction
Health
Very clean
Level
Status
Location
Pengydeen
Occupation
Interests
Friends
Enemies
Archetype
Bucket's Theme Music
<youtube>http://www.youtube.com/watch?v=SSVgw2rdkc4</youtube>
Bucket is a cleaner in the PengStation Head Office that is infamous for being in the MMK, let alone the rank of a Praiser or a Hailer.
About Bucket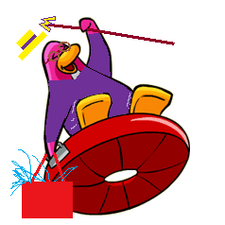 Bucket is a calm, relaxed penguin, he finds pink a relaxing sight, he wears pink but he is forced to wear black to his job as a cleaner for
PengStation
, he is also wonderfully adventurous and has a journal called
The Adventures of Bucket
, he updates is all the time and even adds small videos into it, He is 16 and just loves pink! he also enjoys mopping, cleaning and dusting. He helped design
Super Sapie Bros. Brawl
before working at PengStation (his previous job was at Snowtendo as game designer) and just loves to play! He even hid his own character in the game.

He is apparently in the MMK.
See also
Leader: Alex12345a, TurtleShroom (penguin)
Teacher's Assistant: Close Encounters of the Nerd Kind, Babypuff, KingH10
Hailers: Lobelia Sackville, Fake Tails6000, Fredrick, Ethan, Mabel von Injoface XVIII, 12yz12ab
Praisers: Speeddasher X, Bill Gate$, Fudd, Zoramask
Mega-Fans: Bucket, Taerar, Dan Beronews (May be promoted to Praiser)
Ordinary Members: Barkjon, Zapwire, Jolene Tan, Voltaire, Chill57181, Paul von Injoface,Bartholomew (rumoured ONLY),
Items: MMK Merchendise
Allies: Perry the Puffle, Mabelism
Ad blocker interference detected!
Wikia is a free-to-use site that makes money from advertising. We have a modified experience for viewers using ad blockers

Wikia is not accessible if you've made further modifications. Remove the custom ad blocker rule(s) and the page will load as expected.