Barchokodo (or HellDoom in
Laka
) is the leader of
Hell
,his 2nd in command is
HellFire
. He enjoys seeing his foes suffer either by his list of 108 and expanding ways for pain or death or demonfying them.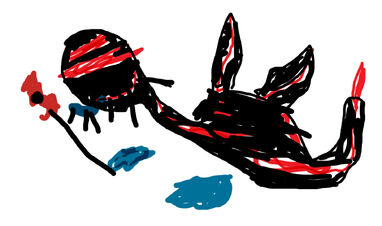 Backstory
Barchokodo was once a snake that was "turned" by the unknown maker of cp to balence good and evil,he ment to turn another snake into the bad side but Barchokodo made himself look like him so he could get the power.He was transported into the newly made Hell to become where he got his hell staff. He made it so every bad penguin(during the event of The Devil's Code he made it so everyone had to) got transported there then had to chose which kind of demon they had to be,he made a rule that if anyone disobeys,they get hypnotized. Barchokodo is feared by even the evilest of demons.
Look
Barchokodo looks like a big,black,winged snake that has a poisionous tail,a barley seeable mouth that has fangs and a tounge that has 3 fangs,has wings,2 evil eyes and 2 blue energy floating hands that hold his staff,some say the staff has an eye but this is false. Theres also a rumor that saids the red "flowing" is his blood but this is also false,the red provides poision for the wings to shoot out and for the tail.
Powers
Barchokodo can...
Use his staff to "demonfy" people,but not as strong as the Demonfier
Triva
A Laka Penguin went to hell,saw Barchokodo,and escaped and when he said his adventure,the Lakas called Barchokodo that,many penguins that didn't live where Laka Penguins were thought they were nuts,during The Devil's Code,they were proven worng
Barchokodo's real name is really Quinzy,when he heard the Lakas called him Barchokodo,he made everyone in hell think that was his name to avoid being maken fun of,Then again,who would?
He invented swears and the word hell in List of Countries in the Fan Universe after during one of his attacks,he said all 5 swears then shouted something then hell,penguins used hell the worng way.
 Game
He is the 5th boss in the 5th world, Hell, in Paper Lily.
Quotes
"Oh Dang( that's not ment to happen!"
(disapointed at hellfire)Wow hellfire,just wow
(flippin out) I really hate You!
(Talking to a penguin)As number 18 says,666 means me,and me means death so welcome to hell! Not that you'll like it.
(Seeing Mabel on his screen) Once that puffle comes my army will be unstoppable, DARNIT PUFFLE JUST DIE ALREADY!
(Making list for villains he wants to kill) Herbert...Na,he's too stupid to come to a place ment for PERFECT people like me,(sees 15 herbert clones behind him staring at him angerly)...oh screw it(puts Herbert on list)
See also!
Ad blocker interference detected!
Wikia is a free-to-use site that makes money from advertising. We have a modified experience for viewers using ad blockers

Wikia is not accessible if you've made further modifications. Remove the custom ad blocker rule(s) and the page will load as expected.