Can't edit this article? It's probably because it's been protected so that only sysops can edit and/or move it. This may be due to edit wars, spamming/vandalism, or other reasons. Click any of the padlock icons at the top right corner for more information. If you want to edit this article, please leave a message here.
AdelVille
No image availible.
'

AdelVille's location (blue)
Vital statistics
Type
State
Level
1
Location
Ross Island
Inhabitants
Adelie Penguins

AdelVille is the capital city of Ross Island.
Background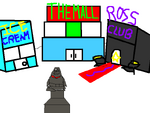 Main article: Ross Island
After Ross Island was founded, AdelVille was constructed in 1976 with the help of the Ross Island inhabitants. Later in 1999, AdelVille was reconstructed covering some parts of Mount Erebus, making AdelVille a dangerous place to visit.
Places
Because AdelVille was reconstructed in 1999, it houses some stores, schools and other places to visit. It also houses a bronze statue of Carl Arnott.
See Also
Ad blocker interference detected!
Wikia is a free-to-use site that makes money from advertising. We have a modified experience for viewers using ad blockers

Wikia is not accessible if you've made further modifications. Remove the custom ad blocker rule(s) and the page will load as expected.