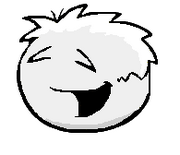 The Abominable Snowpuffle is a supposed new type of Puffle species that resides in the mountains of Club Penguin. They are said to be almost the size of Polar Bears and eat whole O-Berry bushes in one bite.
History
The Abominable Snowpuffle legend started when Senseis would tell their students about things that lived in the mountains. One of these things was a huge white Puffle that could bite a tree in half, and could easily camoflauge in the snow. For awhile this was just thought by most penguins to be a myth. Until now.
Reports of huge, white puffles have increased, and some have even reported them near the Town. G was sure the first accounts were just Herbert, and Klutzy but is undecided about the new reports.
Trivia
Sensei claims he's seen one of these huge creatures.
Ad blocker interference detected!
Wikia is a free-to-use site that makes money from advertising. We have a modified experience for viewers using ad blockers

Wikia is not accessible if you've made further modifications. Remove the custom ad blocker rule(s) and the page will load as expected.